See below for links to articles about women preaching and the Australian Women Preach podcast.
Pastoral Liturgy
In Her Voice: Raising Women's Voices in Preaching the Gospel
November 2023, Book Review by Mary-Anne Lumley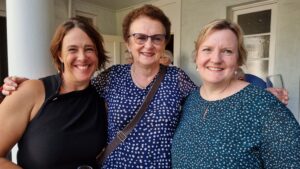 A symphony of voices is brought together in this book: voices from ancient peoples of these lands known as Australia; voices from varied denominations; voices of lay people, consecrated religious and ordained ministers; voices of teenagers still at school and of those who teach in schools, universities and seminaries; voices representing a variety of vocations and talents. Importantly, as noted by Tracy McEwan in her introduction, they are all voices of persons who 'share a knowledge and love of the Gospel, and a Spirit-given desire to preach.' This is blessing for the People of God in Australia: persons who are gifted by the Spirit, who love the Gospel and give their voice to share it with others.

photo: book contributors Angela Marquis and Moira Byrne Garton with Andrea Dean from WATAC at the book launch of In her Voice. 
Eureka Street
raising women's voices
6 October 2021, by Tracy McEwan and Patricia Gemmell
The marginalisation of women doesn't only happen in politics. For too long in Australian churches, and the Catholic tradition in particular, the rich and diverse theological insight of women has been diminished, silenced or ignored.
Yet, unlike the Australian parliament, women make up more than half of all Australian Catholics. So why, in a Church that teaches the equal dignity of women and men, are women's voices still unheard?